DeepAwareness
Reality Program: Create Money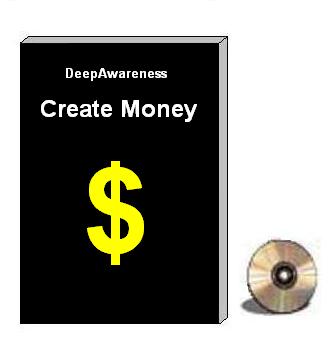 Electronic format - Instant Download, no shipping no waiting!

Would you like to have much more money?
Money is a powerful form of physical energy, that rules our physical world, with money you can almost buy anything that you desire and need, when having enough money it removes fears and worries of survival because then you are free and can pay all your bills and fulfill all of your goals, desires and needs, money also provide better healthcare and better education.
Money, is a powerful symbol statues for success, and causes people to respect and appreciate you.
Create Money is an audio training program intended to create, attract and increase the amount of money you have, by reprogramming your subconscious mind using your thoughts emotions and imagination.
The 3D reality you experience around you is 100% reflection and mirroring of the programming you have in your subconscious mind.
In this program we will show you how to reprogram your subconscious mind to create, attract and increase the amount of money you have.
All you need to do is listen to it and exercise your mind using your imagination as guided in the program.


Benefits of this program:

• Deep reprogramming of your subconscious mind.
• Training is enjoyable and effortless.
• Electronic version, Instant download, start training today!

Some Uses :

- Increase the amount of money you own.
- Protect and save money
- Buy all the things you wanted and dreamed for.
- Create Money.
- Attract money.
- Have financial freedom.


Content

- This audio session will quickly take you into a deeper relaxed and focused state of mind.
- Preparation.
- Energizing your emotions.
- Letting go and going deep into a higher level of awareness.
- From this level you are deeply connected with your subconscious mind and your inner infinite self, and can very powerfully manipulate reality.
- Choose the amount of money you want to have in your bank account and then energize this reality.
- Create your new reality, the reality of wealth of having all this money in your possession.
- Program your mind to discover more ways to save money.
- Program your mind to discover more ways to create money.
- Acquire money from unexpected sources.
- Become a big money magnet.
- Energize the reality of financial freedom.
- Energize your inner infinite creative source.
- Easily return to normal waking awareness.


Format

File: One MP3 audio file
Size: 26 MB
Length: 23 Min


100% Support

DeepAwareness gives 100% Email support for all it's students, for every question you have, we will do our best to help, guide and give full support, in most cases within 24-48 hours.


Price: $24.95

pay online with credit card or paypal, and get instant access to download the program right after you pay.
By clicking on the "BUY IT NOW" button you agree that you read and accept the Disclaimer and Warning terms.

(Instant Download!)


Warning!
Do not listen to this audio program while driving or operating any machinery that required your focus of attention since this audio program takes your attention inward and reduce your awareness to the outside world.