DeepAwareness
Creating Your Day
<![if !vml]>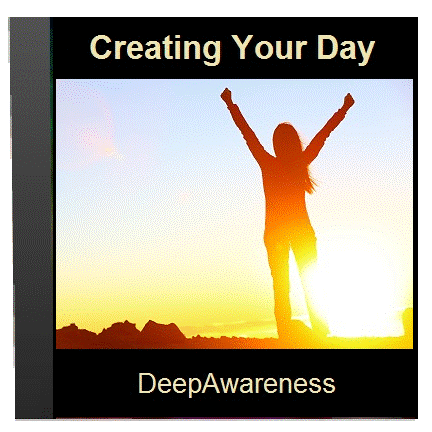 <![endif]>
Electronic format - Instant Download, no shipping no waiting!
Do you want to create the experiences in your day?
This program will teach you how to create your day, how to choose and create the experiences you will have in your day by just using the amazing wonderful power of your mind.
Become the author of your life, take the wheel into your hands and write the script of your day, and then see how it plays under your free will of choice.
DeepAwareness Creating Your Day is a guided audio session that you can use every day or whenever you want to create a certain intended day.
Some Uses:

Create moments of laughter.
Good relationship and high connection with people you care.
Motivation to do and complete the things that are important for you.
Create Wisdom and learning.
Choose the outcome of events.
Charge your emotions with different energies such as: productive, peaceful etc.
Make your day interesting and meaningful never be bored again.
And very much more… the possibilities are endless.
Content:
<![if !supportLineBreakNewLine]>
<![endif]>
Guided audio session.

Format

1 MP3 audio file, Size: 11.8 MB Length: 8.38 Min.
<![if !supportLineBreakNewLine]>
<![endif]>
100% Support

DeepAwareness gives 100% Email support for all its students, for every question you have, we will do our best to help, guide and give full support, in most cases within 24-48 hours.

<![if !supportLineBreakNewLine]>
<![endif]>
Price: $19

pay online with credit card or paypal, and get instant access to download the program right after you pay.
By clicking on the "BUY NOW" button, you agree that you read and accept the Disclaimer and Warning terms.
(Instant Download!)
Warning!
Do not listen to this audio program while driving or operating any machinery that required your focus of attention since this audio program takes your attention inward and reduce your awareness to the outside world.